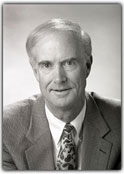 Jim Belvin recently retired from his position as Director of Financial Aid at Duke after almost thirty five years of distinguished service to the University.
Over the years Jim has worked with thousands of students and parents to help them afford a college education.
He has also played an important role in the ongoing development of the financial aid formulas used by many colleges.
As one of the longest tenured and most experienced financial aid directors in the country, Jim served in an advisory capacity for many boards and financial aid associations. This service included important leadership positions such as chair of the College Scholarship Service's Committee on Standards of Ability to Pay, and as a Trustee for The College Board. Most recently, Jim served as the founding Chair of the 568 Technical Committee. Under his leadership, this group of thirty plus colleges and universities developed and implemented the Consensus Approach to Need-Analysis. Many of the innovations included in this cutting edge approach to reviewing financial aid applications have now been adopted by The College Board and are widely recommended for use in determining financial aid eligibility.
Jim has authored nine publications on the topic of financial aid and paying for college including the co-authorship of the recent book "How to Save for College-From the Beginning."
In his new role with Reducing College Costs, LLC Jim looks forward to continuing his work with students and parents as they prepare to make an important investment in a college degree.